Buenos Aries and the Russian Mafia
by Andrew G. Taylor
About the Book
September 2002. Recent hyper-inflation has left the economy in dire straights but the old part of Buenos Aries still had echoes from the days when it was a capital of South American capital – a grand European city of the Antipodes .
Features & Details
Primary Category: Street Photography
Additional Categories Argentina, Arts & Photography Books
Project Option: Standard Portrait, 8×10 in, 20×25 cm
# of Pages: 52
Isbn

Hardcover, ImageWrap: 9798210220684

Publish Date: Apr 12, 2022
Language English
Keywords

memoir

,

street photography

,

Buenos Aries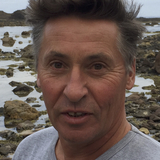 Andrew G. Taylor is a Sydney-based filmmaker and photographer. He has worked in and across different forms of drama, documentary, commercials and animation. Taylor's film work has won awards and been screened at prestigious festivals including Melbourne, Edinburgh, Saõ Paulo, Oberhausen and Vladivostok film festivals. In 2010, Taylor's film Siberia was selected as part of H'ors Piste, an internationally curated screening event at the Pompidou Centre (Paris). Taylor's photo-essay films, Siberia (2008) and First Person Kodachrome (2014) are made from partially animated still images and reflect Taylor's exploration of hybrid still / moving forms – work occupying a space between cinematography and photography. Another work in this vein is 'The Past is Foreign Country' (2022), a series of nine photo books, each one reading like a short poetic film without a soundtrack.