Staff Pick
Solentiname (English Edition)
encountering a myth
by Ana Cristina Henriquez
This book is available to buy on Amazon
About the Book
Winner of BEST ART BOOK
INTERNATIONAL LATINO BOOK AWARDS 2022.

A historical photographic coverage of legendary Nicaraguan poet and revolutionary priest, Ernesto Cardenal, in his utopian community of Solentiname during the 1970s.

In the 1970s, Ana Cristina Henríquez undertook a perilous journey from Venezuela to Nicaragua to make photographic coverage in Solentiname. Several decades later, her photographs give us a close-up look at this historic community.

A MUST-HAVE BOOK FOR THOSE INTERESTED IN LATIN AMERICA.


Features & Details
Primary Category: Arts & Photography Books
Additional Categories Travel
Project Option: Standard Landscape, 10×8 in, 25×20 cm
# of Pages: 64
Isbn

Hardcover, ImageWrap: 9781034962434

Publish Date: Aug 24, 2022
Language English
Keywords

Ernesto Cardenal

,

Solentiname

,

libro premiado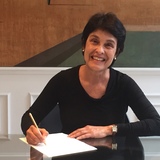 Ana Cristina Henriquez is an award-winning audiovisual producer, writer, and script consultant, with a Master's degree in Film and Television from the University of Southern California, USC. Some of her non-fiction films include "Deep into Canaima" and "Freshwater Lands", screened at the United Nations. Ms. Henriquez has been a producer of television series such as those made for National Geographic and the BBC. Ana Cristina is also the writer of the poetry collections Las puertas del sueño (2019) and Párpados entreabiertos (2021), which won an Honorable Mention at the Latin Book Awards 2022. Ana Cristina combined her journalistic and audiovisual experience in Solentiname, Encountering a Myth, journalistic coverage of the legendary Nicaraguan poet Ernesto Cardenal in his utopian community of Solentiname during the 1970s which was the winner of Best Art Book at the Latin Book Awards 2022.