Tails of Windsor and Ascot | part of the Tails of the World Collective
From MIL Pet Photography
by Chris and Sue Miller
About the Book
Part of the Tails of the World Collective from international pet photographers, this is a gorgeous hardcover coffee table book, featuring dogs photographed in the Windsor and Ascot area, Berkshire, UK

The book contains 128 pages and includes more than 180 photos. The 45 dogs featured are all accompanied by beautiful, colourful photography and touching stories, all told from the dogs' perspectives. It is a heart warming collection of stories that will put a smile on the face of any dog lover.

Photographed, written and designed by Chris and Sue Miller of MIL Pet Photography. Less than 30 miles from London in the United Kingdom, Windsor and Ascot are two towns residing within the Royal Borough, in the county of Berkshire. With the Royal family heritage and associations from the 11th century Castle in Windsor to the Racecourse founded by Queen Anne in 1711 in Ascot, there are so many delightful spots for dogs to have fun.

This project raised £1,350 for Berkshire Search and Rescue Dogs, and a chapter of the book explains their great work. The profits from each book purchased continue to be donated to this charity.
Features & Details
Primary Category: Pets
Additional Categories Nonprofits & Fundraising
Project Option: Standard Landscape, 10×8 in, 25×20 cm
# of Pages: 128
Isbn

Hardcover, ImageWrap: 9798211782181

Publish Date: Nov 23, 2022
Language English
Keywords

Windsor

,

Ascot

,

Dog Photography

,

Pets

,

Dogs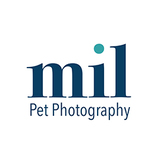 MIL Pet Photography is an animal loving husband and wife team. Chris Miller is the UK's first certified Dog Photography Master, and also has a Diploma in Canine Behaviour Training. Sue Miller has an eye for the perfect photograph, and chooses the final images that get edited. Together, we are dog photography specialists who love nothing more than capturing that unique emotional connection and deep, unconditional love between you and your beloved dog. We love providing an overall experience for you and your dog. With our happy and relaxed approach to photography sessions, your dog can run, play and have fun in familiar surroundings. We passionately believe that animals are best photographed within a natural environment. It is a combination of our patience, knowledge in canine behaviour and formal photographic training that allows us to photograph each dog with heart-warming and often humorous portraits. Photography is our passion, pets are our life.