About the Book
Exclusif : Rihanna en couverture de Diana Unlimited. Ce mois-ci, Diana Unlimited met à l'honneur Rihanna, elle est bien plus qu'une chanteuse à succès: c'est une battante. D'où lui vient cette force de caractère ? D'une blessure d'enfance qui l'a construite. Sa vie, son œuvre, sa perception du style féminine, ce qui implique vision, courage et détermination..
Features & Details
Primary Category: Fashion
Additional Categories Self-Improvement, Minimalist
Project Option: US Letter, 8.5×11 in, 22×28 cm
# of Pages: 68
Publish Date: Jan 24, 2023
Language French
Keywords

MAGAZINE TRIMESTRIEL

,

MODE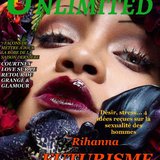 Diana Unlimited c'est avant tout, un magazine qui parle directement aux femmes ainsi aux personnes binaires ou non, j'aimerais donner un nouveau style idéal pour donner une nouvelle vision de la société française ainsi à l'international, Je comprends bien avec tous les évènements passés cela vous ne donne pas beaucoup d'enthousiasme, pour y répondre, mais aujourd'hui j'ai besoin de vous plus que jamais.. Mon travail consiste à dévoilé la vérité, que cela soit sur les plans des exhibitionnistes, pour protéger l'environnement et les enfants. Sur la violence envers les femmes en France comme à l'étranger ainsi que le bien des transsexuelles, transgenre, gay, lesbienne, d'avoir leur place dans la société.. Aujourd'hui c'est mon combat en étant seule à combattre...