You Got This!
1000 Positive Affirmations Book Healing Through Words
by Leia Millington
This book may be found in online bookstores, like Amazon.com, using the ISBNs below:
Softcover ISBN:
9798211476318
About the Book
These affirmations are great to read before bed, first thing in the morning, on a coffee break, at the beach, or any time you need a daily dose of inspiration! The paperback also makes a great coffee table piece!
By reading or listening to these affirmations, we are bombarding our subconscious minds with powerful, positive, statements that will move us towards our goals automatically. In essence, by reading or listening to these affirmations over and over, we are reprogramming our mental computer to achieve more health, wealth, love, and happiness right now!
This book will allow you to:
• attract abundance
• attract the people you love
• establishing better and more lasting relationships
• sleep better
• improve your health
• increase happiness
• have more self-confidence and self-esteem
• be more productive
• improve problem-solving skills
• increase in concentration
• develop mental toughness
• think positive
and much, much more ...

To get all of these affirmations right now, click the "buy now" button and start the reprogramming process right away!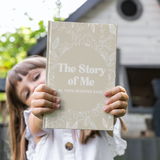 Leia Millington is a wife and mama to three kids. After having her first baby, she created an online community with just under 40 close friends and family for support and advice on motherhood. Today, that small community has grown to include over tens of thousands of moms. You can find her latest stories and tips on the Mamahood Blog.