Douleurs actuelles:
Paradoxes et angoisses
by Géraldo P. E. GOMEZ
About the Book
La solitude au sein du couple, la solitude au travail, la solitude spirituelle, la solitude sociale peuvent conduire à la dislocation de la famille.
Nous vivons aujourd'hui dans un monde où les moyens de communication sont très développés, mais paradoxalement l'individu ne s'est jamais senti aussi seul: au sein de la famille, sur le marché du travail, dans les relations humaines et sur le plan religieux. Qu'est-ce qui est en cause? Quelle est la part des moyens de communication eux-mêmes dans ce nouveau territoire de solitude écrasante? Celle de chaque individu? Celle de la structuration même de nos société?
Géraldo P. E. GOMEZ analyse les causes endogènes et exogènes au couple de cette solitude qui conduit aux séparations et divorces, décrypte les paradoxes de nos sociétés entre le paraître et l'être ainsi que le déséquilibre qu'ils génèrent.
L'auteur propose des pistes pour transcender ces paradoxes et déséquilibres et en tirer meilleur profit.
Features & Details
Primary Category: Parenting & Families
Additional Categories Social Science
Project Option: 6×9 in, 15×23 cm
# of Pages: 176
Isbn
Publish Date: Mar 13, 2023
Language French
Keywords

divorce

,

souffrances

,

douleurs

,

solitude

,

couple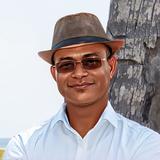 Géraldo P. E. GOMEZ, né le 5 décembre 1972 à Ouidah (République du Benin), est titulaire d'une Maîtrise en Sciences Sociales et Économiques à la Faculté des Sciences Sociales et Économiques de l'Institut Catholique de Paris, et d'un Diplôme d'Etudes Supérieures Spécialisées (DESS) en Gestion du Développement international et de l'action humanitaire de l'université Paris 12 - Créteil. Engagé dans le domaine de l'entreprise en tant que créateur et dirigeant, il est également passionné des nouvelles technologies de l'information et de la communication : il y a obtenu deux certifications Google. Ce qui lui permet aujourd'hui d'endosser efficacement la casquette d'un Consultant averti. Il est un ancien membre de la Jeune Chambre Internationale (JCI).