PROArtes MX Journal - 2023 Hardcover
by PROArtes México
About the Book
PROArtes México's first annual journal! Each year we will release a new journal design and it seemed appropriate to start the series with the mariposa logo. This blank paged book can be used as a journal, sketchbook, registry, etc.

We are committed to supporting the creation and promotion of exemplary Mexican contemporary art and the exchange of art and artists between the USA and MX. Since the beginnings of PROArtes México, a goal has been to generate funds to be used as direct support for artists' projects and mobility. 100 percent of the proceeds from merchandise like this journal will be collected to be used for our new microgrant program in support of artistic projects. More merchandise options on our website.
Features & Details
Primary Category: Sketchbooks
Project Option: 6×9 in, 15×23 cm
# of Pages: 78
Isbn

Hardcover, ImageWrap: 9798211437616

Publish Date: Mar 18, 2023
Language English
Keywords

Sketchbook

,

Journal

,

Artist

,

Drawing

,

Painting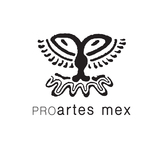 Supporting creation/promotion of Mexican art and fostering exchange of art/artists between the US and MX. PROArtes Mexico believes art and culture are a means of establishing a dialogue between communities from a human-centric perspective in the hope of fostering a need for sensitive questioning before collective decisions are made. The organization was created to bolster the ability of artists to work and exchange ideas between the United States and Mexico as well as promote exemplary Mexican art internationally. They strive to create a space where the same value and equity are achieved for all creators despite belonging to nations from varied social contexts.