The Sweet Life
The ABCs of Peachland
by Denise Briggs
This book may be found in online bookstores, like Amazon.com, using the ISBNs below:
Hardcover, ImageWrap ISBN:
9798211355057
About the Book
Peachy-keen to learn your ABCs? This adorable book allows you to discover the town of Peachland where life really is as sweet as it sounds! Children will love finding the hidden peach on every colourful page. This book is just peachy and sure to sweeten any reading time!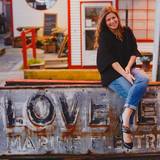 Denise Briggs is a busy mom to five children. They enjoy living the sweet life in Peachland, British Columbia.