Behind the Night Sky: ION
Its Out Now
by Brendon GMC Holden
About the Book
Geoffrey is an average young adult: cars, school, business and making life work. He recently purchased a home, financed by his small business: a gas/candy stop.
Geoff being over excited about his new purchase invites some of his friends—from his younger years to visit.
While they are there, they decide to do something new, something that only children would do—and this is to—explore the world of make believe, this Geoffrey calls the ancient quantum system, tying into Brendon's written book, The game. As they explore, they find a game show, there they win thirty thousand dollars, exciting all five friends.
Months go by the five friends play, as they play in the ancient system, most of the five friends that had visited Geoffrey's home that fall day—begin to experience negativity, mostly from reading paranormal writings that appear on a bridge wall, one of which effects Geoffrey's mind to a point of a psychotic psychosis.
Are we on the earth, their minds scream—creating reason, asking many questions. Geoffrey must fix this error to save him and his friends.
Is this the end of Geoffrey, his mind and his friends or will the five friends find a way out of ION?

Features & Details
Primary Category: Entertainment
Additional Categories English / Grammar
Project Option: 6×9 in, 15×23 cm
# of Pages: 122
Isbn

Hardcover, Dust Jacket: 9798211351035

Publish Date: Apr 12, 2023
Language English
Keywords

Matrix

,

Quantum

,

2023 Books

,

ION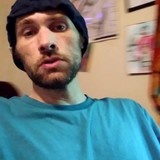 I am a Vermont Author, musician, and artist. I have written such books as Smoking by the River and The Game, and produced such music as: Poison Berries, Behind the Night Sky and Back to Life! I am most proud of the Behind the Night Sky Trilogy books. I hope to inspire those that I can and share enough to have made a positive difference in the world! I would love others to read my work and grasp the in-depth conversations written within the pages, to say, yeah, we can talk about that!