Vibrations of Love
by Tamara "Ms. TeeKay" Kumoji
About the Book
Vibrations of Love is an intimate collection of poems and self-evaluating questions the author asked herself during the process of Raising her Vibrations so that she would be in a state of accepting love.

Among this collection of poems are the publicly performed poems called "Mr. Inconsiderate," "Mysterious Girl," "Is it Real" and The Civil."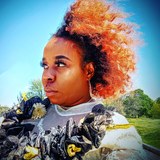 Ms. Tee Kay is a performing poet, songwriter & storyteller on the arts scene, a born and raised native of Baltimore, MD and mother of 3 daughters, two grown, and one teenager. She has been writing poetry & short stories for over 25-yrs. Her first love is music and most notably that love can be witnessed throughout her poetic lyricism and fiery stage performances. Known as a woman of many words, Tee-Kay describes herself as a helper and healer with her words and spirit. Embarking on her poetry journey allows her to pursue her passion sharing stories of women's truth and love.