This book is available to buy on Amazon
About the Book
"Please, Don't Leave Me," is a profound visual odyssey from acclaimed Middle Georgia film photographer, Kelsey Smith. Known for transforming the mundane into something extraordinary, Kelsey invites you into his world of fleeting youth, nostalgia, and the ceaseless march of time.

A tribute to his beloved hometown of Macon, Georgia, Kelsey's images echo with the raw beauty of everyday life and unnoticed moments. Capturing childhood experiences and societal changes with a unique blend of contemporary and classic aesthetics, Kelsey's work invites us to pause, appreciate the uniqueness of our surroundings, and to find beauty in the seemingly ordinary.

Dive into "Please, Don't Leave Me" and experience the sublime blend of artistic vision, heartfelt moments, and poignant narratives. Don't just see the world, feel it through Kelsey's evocative lens. This is not merely a photo book; it's an exploration of time, change, and the power of memory.
Features & Details
Primary Category: Arts & Photography Books
Additional Categories Fine Art Photography, Street Photography
Project Option: Standard Portrait, 8×10 in, 20×25 cm
# of Pages: 60
Isbn

Hardcover, ImageWrap: 9798211139169

Publish Date: Jun 15, 2023
Language English
Keywords

photography

,

nostalgia

,

coming-of-age

,

southern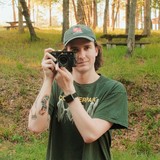 Hi! My name is Kelsey Smith, and I'm a film photographer based in Middle Georgia. My work primarily focuses on the documentary, editorial, fine art, and street photography genres, particularly emphasizing themes of childhood nostalgia, fleeting youth, the passage of time, and societal changes. My photos have been described as having a unique blend of contemporary and classic aesthetics.