Story of the Financial Advisory Industry in Singapore
Past, Present, Future
by AlfredChia,MohdAmin,RaymondNg
This book may be found in online bookstores, like Amazon.com, using the ISBNs below:
Softcover ISBN:
9789811878305
About the Book
Ever wondered how the financial advisory industry came about?

Curious about what it takes to succeed in the financial advisory industry?

If you could learn from the success stories of those who have survived and thrived in this industry, would you take it?

For the first time ever, the story of the financial advisory industry in Singapore comes alive, through personal recounts of veterans and young blood, right within the pages of this book.

Experience first-hand how it feels like to sell insurance to British soldiers in the pre-independence era, all the way to the experiences of insurance agents and financial advisers in the post-independence, post-Y2K and post-COVID days.

Reading a phenomenal story such as this is one thing, and living it is another.

The stories of success in the financial advisory industry needn't just belong to the individuals featured in this book.

The experiences and encounters of the forebears can be a shining torch lighting the way forward in your career as a financial adviser.

Why limit yourself to browsing the pages of this book?

Why not bring this book home and assimilate the lessons contained therein so that YOU too can become a shining star lighting up the way for those coming after you?

Time and tide wait no man or woman.

See you on the other side.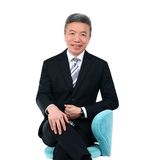 Alfred Chia, CEO, SingCapital Pte Ltd, a financial advisory firm licensed by the Monetary Authority of Singapore (MAS). Alfred possesses over 30 years of experience in the insurance and financial advisory industries, and is a strong advocate of consumer education and empowerment. He is frequently sought after by the media for his views regarding financial matters affecting the common man and woman, and his desire to share this knowledge has prompted him to author several books spanning a wide variety of topics. These books include 'Mortgage and Grow Rich', 'Grow Rich Singapore Style' and 'Last Wishes: Financial Planning, Will Planning and Funeral Planning in Singapore'. 'Story of the Financial Advisory Industry in Singapore' - published in 2023 - is the latest addition to his stable of books, a book that seeks to inspire the next generation of financial advisers to bear the torch for future generations of advisers.