About the Book
This is an illustrated technical guide to the Boeing 737 aircraft. Containing extensive explanatory notes, facts, tips and points of interest on all aspects of this hugely successful airliner and showing its technical evolution from its early design in the 1960s through to the latest advances in the MAX.
The book provides detailed descriptions of systems, internal and external components, their locations and functions, together with pilots notes and technical specifications. It is illustrated with over 500 photographs, diagrams and schematics.
Chris Brady has written this book after many years developing the highly successful and informative Boeing 737 Technical Site, known throughout the world by pilots, trainers and engineers as the most authoritative open source of information freely available about the 737.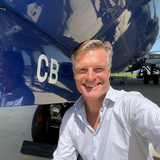 Chris began his career in the RAF before moving into general aviation as an instructor and examiner from PPL to CPL/IR. He was a C of A test pilot on Group A and B aircraft and Chief Pilot. He started flying the 737 in 1994 becoming a Training Captain, Fleet Technical Captain and Fleet Manager. He has conducted over 200 post maintenance check flights on every series of 737 Classic and NG. He has now produced this book as an invaluable guide for all who study, work and train on this hugely successful airliner.