Puppy Love
Smokey The Puppy
by Gail Martin, David Martin II
This book may be found in online bookstores, like Amazon.com, using the ISBNs below:
Softcover ISBN:
9798210956699
About the Book
A human's elderly pug dog is about to pass away and cross Rainbow Bridge. However, she notices how sad her human is. So, she searches for another puppy for her human to care for as she is set for her afterlife adventure. She finds him a black pug, who he names Smokey. Smokey then enters the home where there is another pug, named Bandit. So, they have Smokey and Bandit. Smokey is a very happy and adventurous pup who can't help but get into trouble, while having fun. He loves humans and shows his love through play and kisses.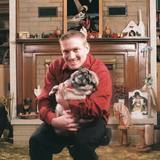 David Martin is an artist who resides in Canton, Ohio. He is currently a resident artist at Patina Arts Centre in Canton, Ohio. He graduated high school with an emphasis in art and music and then from the University of Akron with a major in Fine Art Photography and minors in painting and Commercial Photography. He has been battling mental health issues since the early 2000's and turned to art as his therapy, especially after receiving a medical discharge from the U.S. Navy, in 2011.