About the Book
In the Spring of 2000 Craig J Calhoun videotaped Eric Vulgate trying on, posing in, and taking off some of Craig's reconstructed clothing pieces. In 2006 Craig photographed the video as it played on his tv and created montages with the digital photos.

Please note that the moiré pattern distortion seen in the book preview is considerably less in the print and pdf editions.

This book contains adult male nudity.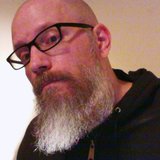 Craig J Calhoun was born in Binghamton, NY in 1971 and then raised in Greene, NY. In 1994 he received a BFA in Metal from S.U.N.Y. New Paltz and an MFA in Fiber from The School of The Art Institute of Chicago in 1998. He started editing digital images with Photoshop in 2004 and currently lives in Chicago, IL. He doesn't create in order to capture; he creates to constantly shift.