Bity Nightmare Byte
Bϕble
by Brendon GMC Holden
About the Book
BNB: Bity, a young black child's youthful love suddenly dies, leaving Bity, causing Bity to forget all. Bity cannot help but keep death alive.
Twenty years later he is working as a white psychologist. Angry, Bity attempts to find his past, and if he does, and when he does—he gets a surprise of a lifetime!
BNB 2: Santer, being beaten by a whole new type of entity, TRON, finds a small black puppet, given to him by a young child named Sally — as he is being abused in her home.
Santer takes the black puppet home. He begins to gratify himself. This causes the black puppet to sort of come alive and tell Santer a horrible story of thirty young girls who tried to escape from a boarding school in a small town called Box town.
Bity Nightmare Bite 2 is fictitious and is more horrible than the first book, causing fear in the reader, this to ask the question to not only should we be reading this book, but should I have nightmares!
BNB 3: What is the two in one half… is this positive or negative? What is a dream? The book of Brendon is, or many compiled notes, including an accidental run-in with the fifth dimension. To travel through time takes reasoning to abandon a type of moral responsibility for time, for instance a parallel earth, your family, are they still your family? In this mindset is another conundrum with the fifth dimension, if you borrow your family for a moment, you are all in a dream, is this still your family, if they recall not what you did to them upon wakening.
Bity Nightmare Byte is a fictitious story and in no way to be taken in any other way. I was inspired to write this story after watching works of horror.
Because I from time-to-time watch horror movies I wanted to give back. Horror for me is a small break from my normal daily routine. Bity Nightmare Byte should be enjoyed by such, those that need an escape from their monotonous living.
Written to entertain a mature audience!

Features & Details
Primary Category: Horror
Additional Categories Inspiration
Project Option: 6×9 in, 15×23 cm
# of Pages: 242
Isbn
Publish Date: Sep 07, 2023
Language English
Keywords

Brendon

,

Byte

,

Bit

,

ϕ

,

Bϕble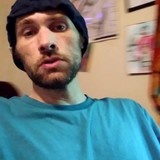 I am a Vermont Author, musician, and artist. I have written such books as Smoking by the River and The Game, and produced such music as: Poison Berries, Behind the Night Sky and Back to Life! I am most proud of the Behind the Night Sky Trilogy books. I hope to inspire those that I can and share enough to have made a positive difference in the world! I would love others to read my work and grasp the in-depth conversations written within the pages, to say, yeah, we can talk about that!