Camino de Santiago [Español - Blanco y negro]
La aventura de tu vida
by Ivan Blanco
About the Book
[Versión Blanco y Negro]
La centenaria peregrinación de tradición cristiana se traduce aquí en una historia contemporánea contada desde el punto de vista de un fotógrafo apasionad, políglota y ciclista. Descubre aquí en un viaje de 15 días que llevará a sus protagonistas por las sinuosas colinas del Pirineo franco-español, rutas del Camino ocupadas por encierros de toros, tormentas apocalípticas, la deliciosa gastronomía ibérica, gente increíble, emociones, amistades, solidaridad, empatía y el reto diario de mirar hacia adelante para llegar a tu destino.

¡Buen Camino Peregrino!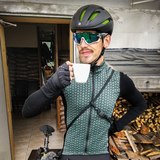 Hi there, I'm Ivan and some call me, the terrible! Spanish and born in Switzerland, I work in Monaco in communications as a film and photographer, which together with cycling are my biggest passions. Come along and join me on my adventures!