About the Book
The Issue: Beyond the Surface

In the midst of the bustling state capital, where historic landmarks and iconic institutions often take center stage, there exists a hidden narrative waiting to be discovered.

This photo book is a journey through the lesser-known corners, the quiet moments, and the untold stories that breathe life into the vibrant tapestry of Sacramento's urban landscape.

Through these images, we invite you to peel back the layers of this city, revealing its hidden beauty, its forgotten history, and the essence of a community that thrives beyond the obvious.

Join this visual exploration of Sacramento that goes beyond the surface, where the ordinary transforms into the extraordinary, and where the heart of the city beats in unison with its secrets.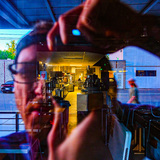 Dutch is an East Coast native who embarked on a transformative journey to the West Coast in search of self-discovery. Along the way, he found solace and inspiration in the art of photography, capturing the essence of life's moments. Sacramento, with its picturesque landscapes and vibrant culture, became his muse, allowing him to weave stories through the lens of his camera. Join him on this visual adventure as he continues to explore the beauty of both the state capital and the human spirit.