Birds of the Red Sea - September 2023
by Georgina Cole
About the Book
A photographic guide to the Birds of the Red Sea, Egypt. The photographs have been taken by Georgina Cole who lives in El Gouna, an oasis for birds on the edge of the rocky Eastern Desert just north of Hurghada Airport.

Georgina's passion for bird photography began in 2019 when she began a voluntary Environmental Project to raise awareness of the birds.

Bird migration in the Red Sea is the second largest bird path in the world with around 2 million birds passing through. As well as the photographs, each species has been documented by Georgina on the worldwide eBird database for Al Bahr Al Ahmar (Red Sea). There you can find all the information about which species can be seen at difference times of the year, where they are breeding, migrating to, or if they are resident year round in Egypt.

The photographs have been taken with a Canon EOS R6 with RF100-500mm and RF800mm lenses.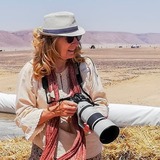 Georgina is a British ex-pat who retired to El Gouna on the Red Sea Coast of Egypt in 2004. A passion for photography developed as she travelled around the country exploring the culture and nature both above and below water. Her skills for bird photography developed when she began a voluntary environmental project for the local Rotary Club to raise awareness about the Birds of the Red Sea. Georgina is now a member of BirdLife International. Her home in the beautiful Red Sea resort is surrounded by colourful Nubian style buildings, turquoise blue lagoons, and with views of the Red Sea islands to the east, and desert mountains to the west.