About the Book
Step into the uncanny with "FLOOR LORE VOL. I", an enigmatic anthology that unearths tales whispered by the discarded fragments of our existence. This photo chronicle, curated by an artisan who balances delicately between reality and dreamscapes, brings the everyday to life as hidden narratives. Each object, a textual specter on refuse and forgotten papers, hums with the echoes of human lives that have brushed past them, hidden within the folds of the familiar.

"FLOOR LORE VOL. I" is a beacon in the twilight, transforming the overlooked into silent storytellers steeped in mystery. Ordinary cast-offs assume a role of the extraordinary, as each image nudges you deeper into the rabbit hole of urban folklore and poignant, communal narratives. It's a tribute to the indelible imprints we etch onto our environment, painted in hues of the surreal and the everyday. Dare to journey through this album of visual narratives, and let it pull you into a vortex of hidden realities, whispering the unsung symphony of our shared human existence.
Features & Details
Primary Category: Arts & Photography Books
Additional Categories Street Photography
Project Option: 5×8 in, 13×20 cm
# of Pages: 36
Isbn
Publish Date: Sep 27, 2023
Language English
Keywords

photography. experimental

,

zine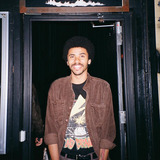 I am an artist, filmmaker, photographer, writer, illustrator, and part-time human being. I strongly believe that the art of storytelling no matter the medium is a power that connects us all, I aspire to tell stories that reach marginalized groups and provide representation in genres where black and brown characters are harder to find than they should be. I've always wondered why I don't often see myself in the medium(s) I love when I believe my story is worth telling. I realized at some point that it's because I have to be the one to tell it.