Architecture WORKS
designing buildings since 2013
by Carlos Pérez Mir [Architect]
About the Book
"A collection of six architectural rehabilitation projects designed by architect Carlos Pérez Mir. The projects include numerous improvements in architectural spaces, energy efficiency, preservation of the built environment, and an increase in the quality of life for users."
Features & Details
Primary Category: Architecture
Additional Categories Biographies & Memoirs
Project Option: Small Square, 7×7 in, 18×18 cm
# of Pages: 48
Publish Date: Sep 27, 2023
Language English
Keywords

Portfolio

,

Architecture Works

,

Rehabilitation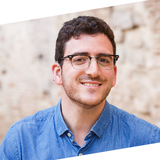 I'm Carlos Pérez, an architect with a decade of experience. I began my career at BAC Ecg, working on iconic structures in Barcelona and beyond. Later, I founded my architecture firm, focusing on renovating older buildings and solving architectural challenges. As a board member of the Catalonia Architects' Association, I'm passionate about promoting accessibility. I'm now a freelance architect based in Barcelona, balancing my professional life with quality time with my family in the tranquil countryside, fueling my creativity and providing a harmonious life balance.