Staff Pick
Around the World with Santa Claus
Discovering His Many Names
by Santa George Campbell
About the Book
You probably know Santa Claus as the jolly old fellow who wears a big red suit and brings presents to children on Christmas Eve. But did you know that Santa Claus has
many different names around the world? In some places he wears different clothing, and even arrives on a different day! Join us on a journey to discover the many names of
Santa Claus. Along the way, you may even learn a few new words in different languages.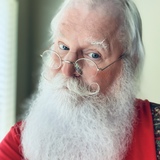 Santa George Campbell, also known as North Texas Santa® has a decade of experience working for corporate and private clients, home parties and civic events. He began his Santa career after a four-decade career in advertising and marketing for Fortune 100 companies. In addition to his year-round duties portraying Santa, he continues to work in creative and graphic design, photography, drawing, typography and music. For his community service as Santa, George was nominated by Fort Worth Magazine for the December 2021 Worthian. He has appeared as Santa on You Tube for Collin Street Bakery, Dude Perfect (with over 50 million views), and the City of Fort Worth. He was also featured in Ron Cooper's best-selling holiday photo book, We Are Santa. He has appeared nationally on CBS News and locally on WFAA TV/Good Morning Texas. He also appeared in the Netflix Movie Fruitcake Fraud and is listed in the iMDB. He hopes to continue creating books about his favorite subject, Christmas.