The Bema Chronicles VII: Dawn of Glory
Volume 7, part 2
by Z. R. Benson
About the Book
(Volume 7, part 2 of the Bema Chronicles series)
The epic final battle draws near as Benoni and the Elite face their greatest challenge yet.
Waking up in a dungeon, Benoni must fight his way through the prisons of the heart of the Shadow Legion's headquarters. Facing monstrous enemies and incredible power, he must learn to unleash the power of the Light – and quell the power of hatred within himself – and work together with unexpected allies to make his way through the dark kingdom.
War is on the horizon as the armies of Darkness make their way toward the Golden Kingdom. The Elite must reunite and awaken the only one who can bring the power of victory – the King of Light, Reyiithomus. The believers of Light must stand strong even in the face of ultimate chaos and destruction to bring about victory and freedom from evil. Ancient, supernatural powers that can reshape the world will collide. But will our heroes survive?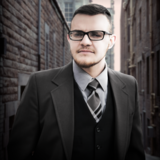 An artist, author, illustrator, and graphic designer, Z. R. Benson often intrigues and inspires readers old and young. He is known for stories that blend fast-paced action, suspenseful twists, and unforgettable characters; all set within a world where light and dark, natural and supernatural, collide. He has authored over 15 novels and graphic novels, multiple spiritually-oriented books and Sunday School lessons, as well as made many illustrations. He currently resides in Salt Lake City, Utah with his family.