Here at Blurb, we've always taken pride in empowering anyone to create and self-publish a beautiful book. But did you know, you can also sell your photo book on Amazon? Harness the power of the world's largest online book retailer and find a global audience for your work.
Making your photo book available to buy on Amazon couldn't be easier. Once you've uploaded your book to your Blurb account, you simply need to go to your Book Details page and select "Amazon" under the "Sell my book" options. That's it. Once you've provided your info to receive payments, Blurb handles the rest.
"…Blurb is now making it easy for authors to sell on Amazon.com, helping them take advantage of Amazon's tremendous reach and ratings/rankings functionality to expand their audience and find new readers."
Here are a few of the common questions people ask about selling their photo book on Amazon.
What can authors expect when listing their book on Amazon?
Once an author submits their book, it will be available for sale on Amazon.com within about seven days. Authors should plan to market their book to their network in order to drive reviews and sales rankings on Amazon, which can then lead to organic sales from new readers. It's important for authors to remember that Amazon adds a fee for selling through Amazon.com, so the list price will need to be higher in order to make the same profit as a book sold directly via the Blurb platform.
Can authors list their books on Amazon if they've already published them through Blurb?
Absolutely. Any existing photo book is eligible for distribution on Amazon. For authors who want to sell on Amazon, it's strongly recommended to drive all sales to Amazon in order to increase their Amazon ranking. But, if someone wants to sell both through Amazon and directly through Blurb's platform, they can do this by uploading their book twice. It's important to remember that the list price must be the same on both Amazon and on Blurb, per Amazon's terms. This just means that the author gets a bigger profit for any copies sold through Blurb!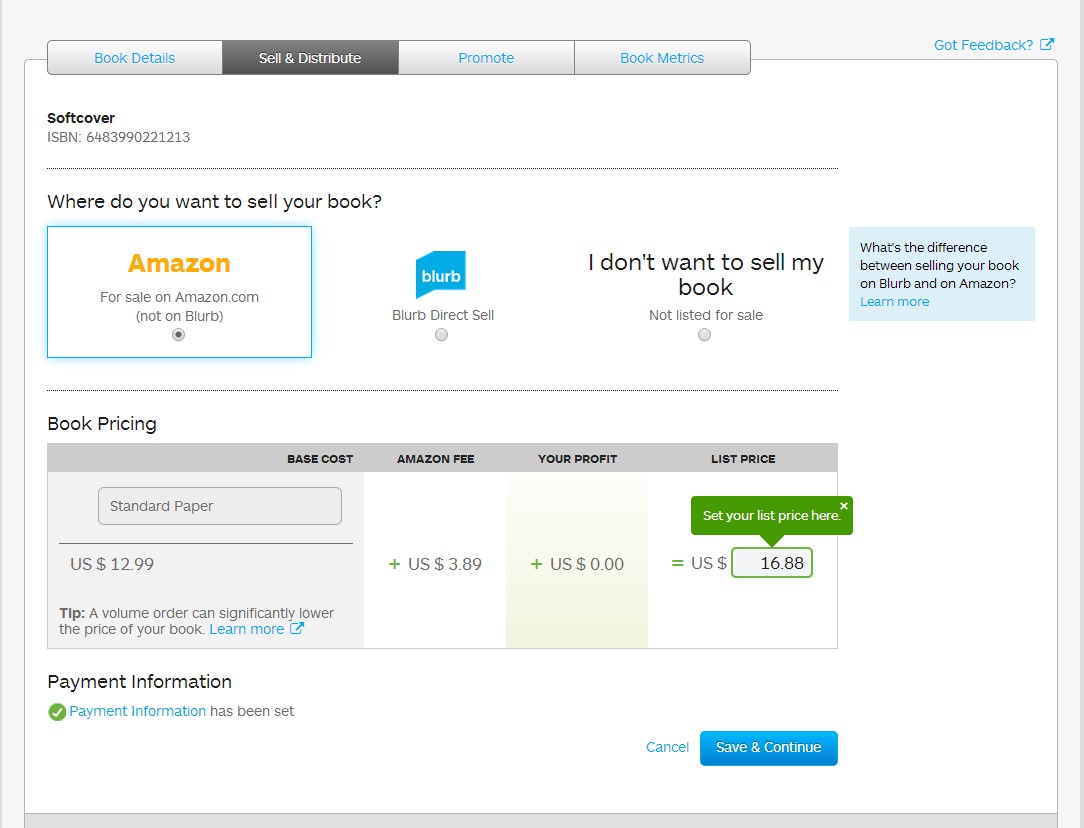 What are the benefits of selling a book on Amazon?
A big benefit of Amazon is that it gives authors a new opportunity to expand their audience beyond their current network. The best way to take advantage of Amazon is to follow Amazon's best practices for sellers—for example, choosing the right words for the book's description, maintaining positive ratings and reviews, setting up your seller's page, and driving all sales to your book listing on Amazon in order to increase authority. It's these little things that will make your book more discoverable to new readers.
Why did Blurb choose to enable authors to sell on Amazon?
Our whole focus is helping authors achieve their goals. For many of our authors, reaching a wider audience by selling on Amazon is an important part of this success. In meeting with several customers, we came to better understand some of the challenges they had in setting their Blurb book up for sale and aimed to find an approach to simplify the process for them.