We were lucky enough to find Debra Pexa's family cookbook, Around the Table: A Family Love Story in one of our summer contests, and we fell in love with her project and family story. A first-time recipe book maker, Debra did the thing we wish we could do. Keeping a promise to her parents, she gathered up her family recipes and put them in a beautiful book. She included photos and stories, taking a full year to collect all her content. At the end of the project, she gave the cookbooks as holiday gifts, and her family was amazed. She was gracious enough to answer our questions for a peek behind the scenes and share with us how it all came together.
Have you ever made a cookbook before?
Goodness, no! Although I had long talked about somehow organizing our family recipes, I had never imagined a cookbook like this; however, I committed myself to the project at Christmas 2016. That year, I gave my parents the promise of "a family cookbook." There were simply recipes I wanted "for posterity," particularly given our Czech heritage and our many baking and cooking traditions. Gratefully, I made good on that promise one year later, when Blurb delivered my cookbook just days before Christmas 2017.
How did you decide the format for your book? What were you considering as you chose the size, paper type, and page count? 
I wanted the cookbook to look like something you'd pull off the shelf at a bookstore. So I chose the Standard Portrait size (8 x 10 inch), with a dust jacket, and premium matte #100 paper. Now that it is printed, I wouldn't change a thing.  Friends often comment "It looks like it came from a bookstore."  So, mission accomplished.
Although I guess this is technically a cookbook, it really is so much more to me. The book contains just as many stories and photos as recipes, which is exactly why I turned to Blurb to help me create it. I use my Instagram account to follow several photographers who inspire me, and several of them have used Blurb for their albums. I loved the look and quality of their albums and had always heard about the easy-to-use software. So when I was ready to make my cookbook, I turned to Blurb. I was not disappointed.
As for page count, my initial plan was to create something with a dozen recipes and a few photos, but that changed almost immediately. Once I started collecting recipes and photos with my mom and other family members, we just couldn't stop. In the end, the book is 226 pages and we really could have added more; however, I think I was starting to approach Blurb's page limit.
All of those recipes though—it was like a treasure hunt.  Over the course of the year that I worked on the project, the conversation would turn to the cookbook each time my family got together.  We'd remember another recipe and inevitably, a family story that went along with it:  "Do you remember that cake Grandma Pavek made with the broiled oatmeal topping? You made it too, Mom. That was so good. I don't think we have that recipe yet." And so the cake with the broiled oatmeal topping was added to the recipe list. (As it turns out, that particular cake wasn't only a great recipe, but it also had a great story and its own Czech nickname! It's on page 143 of the cookbook.)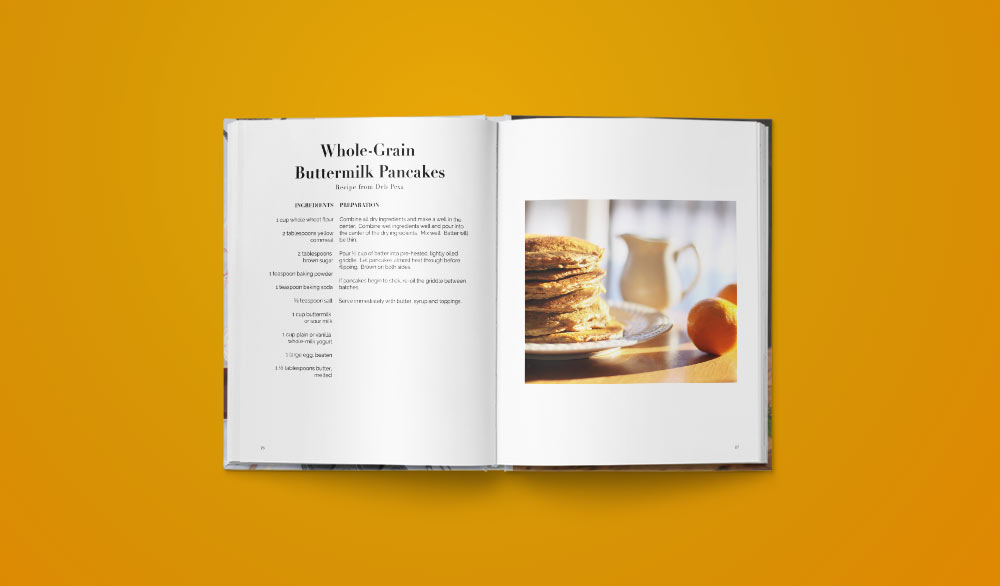 What was it like gathering and organizing the recipes?
It was an amazing experience. But, oh my goodness! I had NO idea what I was getting myself into. As soon as I jumped in, the project became something much bigger than I imagined. I spent months researching, re-creating recipes, organizing, typing, editing, storytelling, and best-guessing. And I roped my entire family into the project with me, especially my mom and dad.  Honestly though, they loved it just as much as I did.
I started the process by listing every recipe I could think of and then asking my family what I had missed. That's when the recipe list quadrupled in size. Once a recipe title made it on the "master list," I had to hunt down the actual hard copy recipe with the ingredients and instructions. In our family, our cooking and baking traditions were inherited from both of my grandmothers, both of whom had passed away years before. Gratefully though, their hand-written recipes remained. I just had to figure out who might be the keeper of a particular one.  So, dozens of phone calls, emails, texts, and car trips ensued to locate all of the recipes.
As I began collecting recipes, I came upon another challenge: Often, my grandmother's recipes were a simple scrawled list of 4 or 5 ingredients, and nothing more. No instructions of any kind.  I guess my grandmothers just knew what to do with those ingredients.  But gratefully, my mom was also the keeper of our family cooking traditions. So, when I came across one of those "ingredient-only" recipes, I'd call her and she'd create the instructions for me, step by step.  I'd put her on speaker phone, next to my keyboard and she'd describe the instructions, as I typed them into the recipe. Without question, those phone calls are among my favorite memories from this process. Working on the cookbook with my mom was a gift!
Once I had my master recipe list, it became pretty clear as to how the recipes would be organized in the book. To supplement the recipes, I also included every family photo I could dig up that was somehow connected to food. Sharing a family meal, setting a table, gardening, cooking, baking, blowing out candles, whatever. I included them all. I then created even more photos by asking my parents to cook and bake some of our family favorites (particularly some of the Czech recipes), and allowing me to take photos while they cooked and baked. And even better, these mini photo shoots often happened while my own kids helped.
In the end, the new photos become heirlooms all by themselves. Maybe the cookbook was just the excuse to make those happen. I also audio-recorded my mom and dad telling some of the stories that were connected to a few of the recipes. Together, I think those are the things that make the cookbook mean so much more. It tells our family story.
It's amazing the stories that come from our food. Not only the stories for each individual recipe but the story they collectively tell about our family. The traditions they reveal.  About what our family values and cares about the most. It was also clear that the cookbook would have A LOT of sweets in it.  Cookies, cakes, bars, pies, desserts—you name it. By far, that is the biggest recipe section.  But I guess that baking cookies or a cake was something we could do together. Then, sharing the end result with family or friends—well, we also shared our love that way too.
What was your favorite recipe you found? Why? 
I can't even begin to choose one. Likely, the recipes that are connected to my Czech heritage are really meaningful. In particular, I think my mom's recipe for Kolacky, along with all the photos we took of her baking them, are so special to me. Because of the history. Because I remember all of the Kolacky variations she lists as part of the recipe from my own childhood. And because now my mom shares these baking traditions with my own kids.
I also love my dad's recipe for a Czech soup called Booya. There is so much family history in that recipe. He learned it from his dad, who learned it from his dad (my great-grandfather.) I took photos of my dad making Booya for the cookbook, which was even more meaningful because he was going through chemotherapy at that time. Gratefully, he is cancer-free now. But capturing those photos and stories at that particular time is so poignant and meaningful. Even when life is difficult and painful, we can cook and share a meal together and remember the important constants in life.
I also made a point of scanning several of my family's handwritten recipes and including them as photos in the book. It is one of the features I love most. It makes each recipe from my grandfather or grandmothers or mom or aunts even more personal.
Because the all of the pictures are such a big part of the cookbook, I have 2 photo spreads in particular that are my favorites.  I love the 2-page spread of family members blowing out birthday candles. Even my eighty-five-year-old grandma was caught in the act. To me, those photos are a reminder of everything we celebrated. Every birthday, every holiday, every picnic, every reason to cook and bake for someone. The food and the stories and the love really are all wrapped up together.
I also included a recipe for homemade ice cream, along with three photos: one of my dad and uncle licking ice cream beaters when they were maybe 5 and 7 years old, respectively; another photo of my dad making homemade ice cream when he was in his 20's; and finally a photo of my own children making ice cream a few years ago. I love that history. Some great recipes clearly stand the test of time.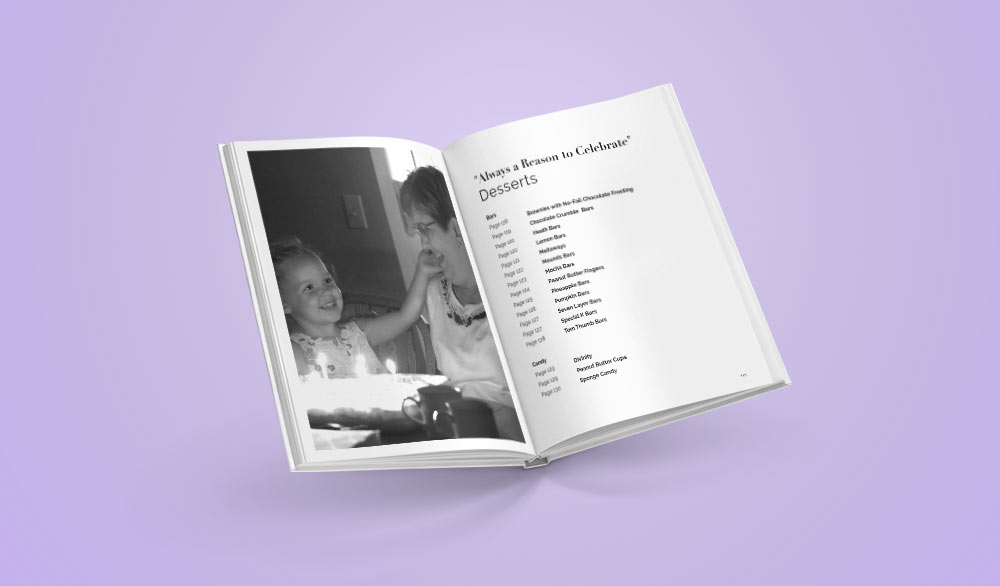 Tell us about your book design process. Did you do it alone? Did you have help? How did you know which layouts to use, and how did you choose your fonts?
I spent a lot of time looking at the designs highlighted on the Blurb website and I bookmarked my favorites. I also created a Pinterest board, to collect other ideas.  I've also collected cookbooks for years, sitting on the bookshelves in my kitchen. So I paged through my own cookbook collection and noted designs I liked. I knew I wanted something simple and clean.  But in the end, I just picked out fonts and layouts that I liked, and went for it.
What book-making tool did you use? What was it like to use it? 
I used BookWright. It was a fabulous program. It was very intuitive and easy to use. I created two templates for my recipes (either one-to-a-page or two-to-a-page) and then added photos and stories around the recipes. It was so easy was to change the look of a page, using a different-sized photo or layout. I could easily create several different designs before settling on what I wanted.
The greatest challenge was keeping track of all my photos. I included so many throughout the book, and it was difficult to remember which I had used, and which were yet to be inserted. However, my guess is that was a beginner's mistake. When I do another project, I will consider my "assets" first and organize them a little better.
What was the occasion or holiday you chose for giving your book? Why? 
My mom decided to gift copies of the cookbook to all of our family for Christmas 2017.  Which meant I was an author on a deadline! The final draft needed to be uploaded by December 19th, in order to be delivered by Christmas Eve. So, it was a mad rush at the end, with countless hours the last few weeks. My husband and kids knew they needed to fend for themselves, because I was glued to the computer, typing away.
Finally, as December 19th arrived, the book was in pretty good shape. However, I didn't have a cover design yet. PANIC!! I just hadn't found photos that I thought represented the totality of the cookbook. However, as they say, necessity is the mother of invention.
Throughout the cookbook writing process, I had collected family dishware, wooden spoons, and utensils, recipe boxes, glasses and more. Thinking I might use them in some photos from time to time.  Gratefully, all of these items were sitting on my dining room table that day. So, I put together an impromptu photo shoot on my kitchen floor. I arranged all these meaningful items in a circle, leaving room to add the book title in Photoshop. I did something similar with the back cover, arranging items my dad used in making Booya, his Czech soup. Somehow, on that last day with the deadline just hours away, I created the book cover that I love.
In the end, on December 19th, I uploaded my cookbook, with 18 minutes to spare. 18 minutes!!  And then I rested. (Ok, truth.  Then I went shopping and started cooking and baking myself, since the cookbook had consumed my life, and I still had the rest of Christmas to prepare for. Ha!)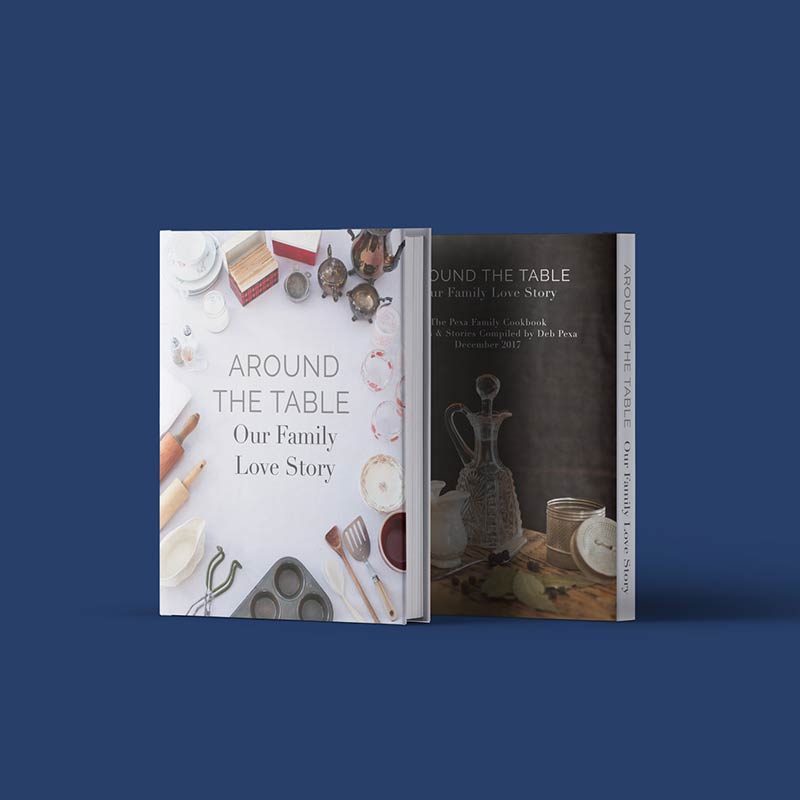 How did it feel to unwrap your cookbook for the first time and see what you've made?
The books arrived 2 days before Christmas. Just as Blurb had promised. I remember arriving home after work and seeing the large box sitting on my front porch. I was so excited, and I was absolutely terrified. What if they didn't turn out as I had imagined? What if those endless hours were for nothing? Would I ruin Christmas?! I think it took me an hour of staring at the box before opening it. But then I did.  And I cried. It was beautiful. It was much more than I could have imagined. And it was done.
What was your family's response to receiving their cookbooks? 
Although my mom and most of my family had been part of the creating process over the past year, I kept the design under lock and key. So when everyone unwrapped their cookbook together on Christmas Eve, it was the first time they were seeing the finished project. Yes, I cried. Again. And I wasn't alone. I think it was particularly meaningful for my mom and my sister. It was a moment I won't forget.
What did you learn from the process of making and printing from a cookbook? Anything you'd do differently next time? What would you tell someone else who was making a book like this? 
The project took MUCH more time than I anticipated, but that was my own fault. It really took on a life of its own, as I kept adding more and more elements. Another photo shoot. More recipes and photos to track down. More stories to collect and transcribe. The final editing. But I knew that if I was going to put the time into it, I was going to do it well. That I'd to right by my families cooking heritage. And I did. I'm so proud of the end result.
Also, my inclination is to say that next time, I'd prefer to do it without a looming deadline. However, that deadline made me finish the book. Otherwise, I might still be tweaking it today!
Since making the book, I share it with others much more than I thought I would. Simply because I want people to do the same. So often friends and family members say "I've always wanted to do create a family cookbook." And my reply is "DO IT!!"  It is truly an heirloom that tells so much of our family story. Anyone can do this. It was a huge project, but I'd do it again in a heartbeat. And even more wonderful is that that these recipes are now so accessible, all in one spot, and so I use them. I pull out the cookbook at least once a week. And in doing so, I relive the memory of my grandmother or mom or dad baking or cooking the same thing. It is just a gift.
Would you make another book?
Yes. Absolutely. In fact, I have been working on a 2nd edition of the cookbook. But this time, I am taking my time, editing each page, correcting a few typos, and rearranging some of the photos more thoughtfully. I am also planning to add more stories and additional photos I've come across. And if there is room, I have just a few more recipes to add…
What's one creative project you'd like to do someday? 
I am planning another book. On May 1, 2018, my husband and I purchased a cabin in northern Minnesota. It's been a dream come true. 160 acres of forest and bog, with three miles of trails and a small private lake. As you can imagine, it has been quite an adventure as we navigate how to be good stewards of this beautiful land. I've been keeping a journal of our experiences at the cabin and of course, taking hundreds of photos. So, this first year at the cabin will be my next book. It's already taking shape in my head…
A big thanks to Debra for taking the time to answer all our questions and share her insights. We really enjoyed the close look at tackling such a monumental project. 
Cookbooks
Ready to make your own cookbook? Get started with one of our high-on-design templates or create your own custom layout.